Vietnam's coffee exports in March were estimated at more than 274 thousand tons, worth 558 million USD, so in the first 3 months of the year, coffee brought in more than 1.17 billion USD.
According to a report of the Ministry of Agriculture and Rural Development in March, coffee exports were estimated at 274 thousand tons with a value of 558 million USD, bringing the export volume of coffee in the first three months of the year estimated at 601 thousand tons and 1.17 billion USD, respectively; increased by 24.8% in volume and 13.8% in value over the same period in 2013.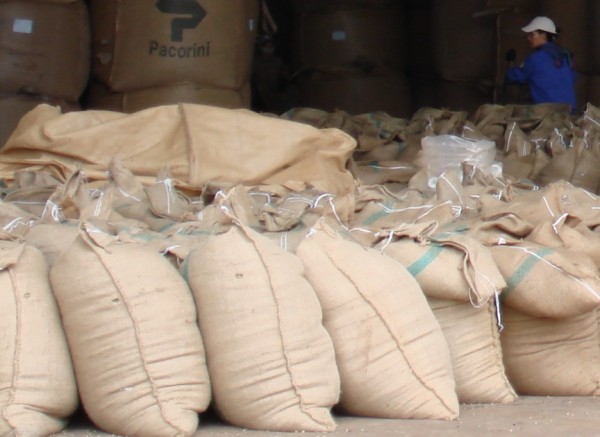 In the first 3 months of the year, Vietnam's coffee exports brought in more than 1.17 billion USD (Photo: Baodaklak.vn)
The average export price of coffee in the first two months of the year reached 1,880USD/ton, decreased by 10.2% compared to 2013. Germany and the United States continued to be the two largest coffee consuming markets of Vietnam in the first two months in 2014 with the market shares of 14.53% and 9.78%, respectively.
According to the Ministry of Agriculture and Rural Development, the situation of coffee production and consumption is facing many difficulties. In the crop year 2013/14, at the beginning, the world coffee price dropped, leading to a decrease in the domestic purchase price to approximately the production cost of farmers.
Currently, the price is at 37,000-38,000 VND/kg. However, due to the high increase in input materials, the production cost of coffee is at 29,000-30,000 VND/kg of raw green coffee; so, at this price, coffee farmers are profitable but it is still low and unstable.
Currently, green coffee processing factories meet enough the output for agricultural production. However, some large factories that have invested in facilities to process high-quality coffee face difficulty in capital (due to pre-existing debts), so they cannot produce, affecting the coffee consumption for farmers in some regions.
Recently, the Ministry has also issued the Document No. 908/BNN-CB submitted to the Prime Minister to report and propose solutions to remove difficulties for the coffee industry. In particular, the immediate solution is emphasized is that the State Bank of Vietnam directs the settlement of bad debts for the coffee industry in accordance with the Resolution 01/NQ-CP dated January 2, 2014 of the Government; for enterprises with many bad debts but have production capacity, consider freezing debts and continuing to lend new loans for business.