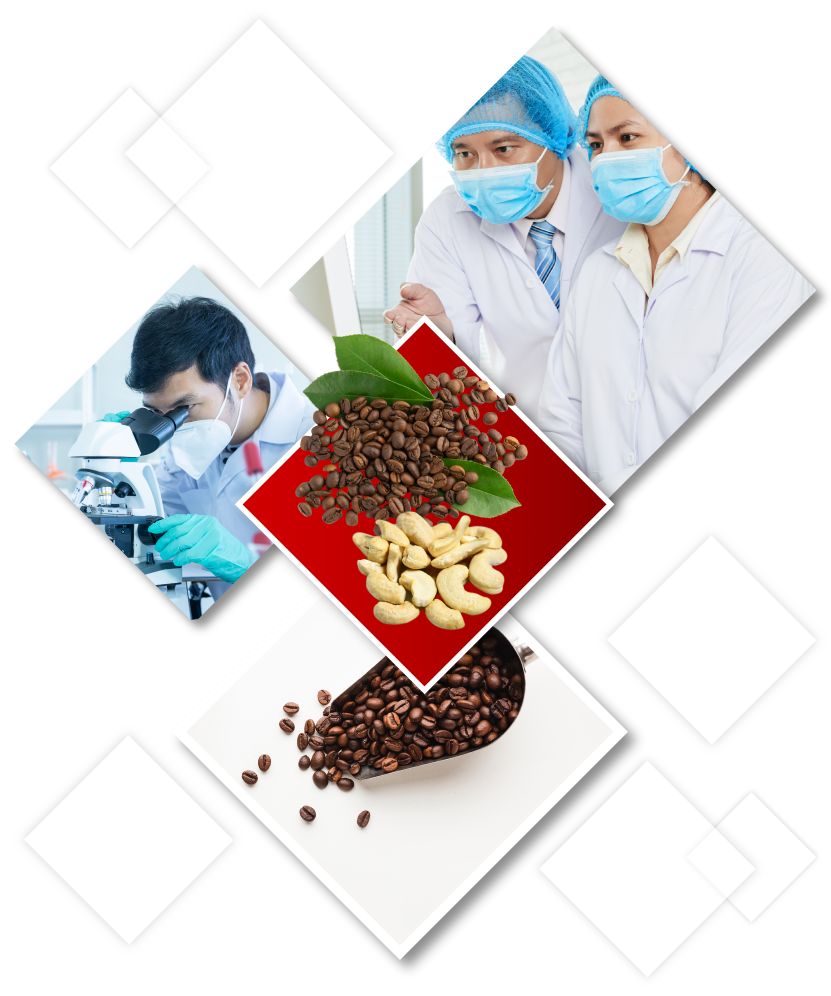 THE SUPERINTENDENCE AND INSPECTION OF COFFEE AND PRODUCTS FOR EXPORT AND IMPORT JOINT STOCK COMPANY (CAFECONTROL)
THE SUPERINTENDENCE AND INSPECTION OF COFFEE AND PRODUCTS FOR EXPORT AND IMPORT JOINT STOCK COMPANY (CAFECONTROL)
The Superintendence and Inspection of Coffee and Products for Export and Import Joint Stock Company (CAFECONTROL), formerly "Vietnam Coffee Research and Quality Control Center" directly under the Ministry of Agriculture and Rural Development was established in 1989.
CAFECONTROL is a members of many trade associations, such as Vietnam Coffee – Cocoa Association (VICOFA), Vietnam Cashew Association (VINACAS), Vietnam Pepper Association (VPA), and Vietnam Association of Fumigation…
Over many years of operation and development, CAFECONTROL has made major contributions in inspecting the products' quality for trading, import and export of Vietnam's agricultural products.
CAFECONTROL has the head office located in Ho Chi Minh City, 05 branches as well as on-site stations and teams across the raw material area of the whole country, and a system of cup-testing, analysis and laboratory equipped with modern tools and machines for inspecting and analyzing criteria, such as physical and mechanical properties, Aflatoxin, Ochratoxin and microbial testing in food and agricultural products.
CAFECONTROL is one of the members cooperating with the Ministry of Science and Technology, Directorate for Standards, Metrology and Quality and the Ministry of Agriculture and Rural Development to develop the national standards for some of Vietnam's agricultural commodities: coffee, cashew nut…
The Company has a staff of more than 220 inspectors, auditors and technicians who were officially graduated from domestic and foreign universities and colleges, meeting the qualification needs for services, inspection of coffee, cashew nut, pepper, rice, tapioca, desiccated coconut, cinnamon, anise…; certification of products under UTZ/Rainforest Alliance standard, 4C, VietGAP, Organic, Sustainable Forest Certification, Geographical Indication for Vietnam's agricultural products; fumigation of goods for export and import; and preservation of agricultural products, handicrafts, beer and wood…
CAFECONTROL, through 32-year experience of establishment and development, is growing stronger and stronger, as a pioneering multi-service provider in Inspection, Testing, Certification, Fumigation and some other fields in Vietnam.
CAFECONTROL is very proud to be one of the top companies in inspection, fumigation and certification of Vietnam, particularly:
– Inspecting coffee, cashew nut, pepper, rice, cocoa, tea and other agricultural products
– Auditing and certifying the product and quality system under   UTZ/Rainforest Alliance standard, 4C, VietGAP, Organic Agriculture, Sustainable Forest Certification…
– Fumigating goods for export and import under AFAS standard, environmental cleaning, warehouse cleaning…
Our motto in serving our clients is:
"QUALITY OF INSPECTION, FUMIGATION AND PRODUCT CERTIFICATION ACKNOWLEDGED ALL OVER THE WORLD"