Dak Lak has the largest area of Robusta in the country, but it also has the largest area of ​​old coffee which is at the end of the business cycle as well as diseased coffee…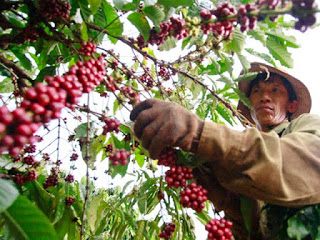 Coffee harvesting (Photo: Quang Quyet/VNA)
However, coffee growers in Dak Lak are not interested in the credit loans to replant coffee, so the re-planting of coffee is still slow compared to the plan.
Currently, Dak Lak province has a total coffee area of ​​over 202,500 hectares, of which over 190,000 hectares of coffee in the business stage are harvested with an output of about 430,000 tons of green coffee/crop. However, through inspection and evaluation, the area of ​​coffee which is at the end of the business cycle, pests and diseases, low productivity, and low economic efficiency needs to be replanted from now to 2020 has increased quite high, over 30,442ha, so the demand of investment capital is also quite large.
According to the assessment of functional authorities, the level of investment in replanting has increased from 100-150 million VND/ha; Meanwhile, as the regulation, the Bank for Agriculture and Rural Development only gives loans up to 80%, the rest is paid by growers themselves, so it leads to the lack of capital for growers to replant their coffee. In addition, the replanting takes 3 to 4 years to harvest, so the livelihood of growers is affected, leading to their hesitation and consideration in replanting.
On the other hand, coffee growers and enterprises in Dak Lak said that the current interest rate of 9%/year is still high, and the payback period of only 7 years is too short.
Mr. Le Thung, hamlet 2, remote commune Ea Kpam (Cu M'gar district) has 2 hectares of coffee which is in the expired business cycle and gives the poor productivity, but still dare not borrow money from the bank to invest in coffee replanting.
Mr. Thung said that if replanting in accordance with the technical process, coffee only can be harvested after 3 to 4 years, but during the time of no harvesting, he still have to pay interest to the bank, while not knowing if the price of coffee is stable or not.
In addition, it is difficult for coffee growers to access capital because most of the coffee area that needs to be replanted is not in the planning area, so it has not been granted a certificate of land use right…
From these facts, after more than 1 year of implementing the coffee replanting credit package in Dak Lak province, it has only attracted 269 customers to borrow nearly 110 billion VND to invest in replanting and grafting on over 730ha of coffee. In which, growers borrowed over 47.3 billion VND, the rest were 6 businesses borrowing over 62.53 billion VND.
According to the plan, from 2013 to 2016, Dak Lak province replanted 25,625ha of coffee, with a total capital demand of nearly VND 4,650 billion; in which, the customer's own capital is nearly 1,650 billion dong (accounting for 35.43%), the participating capital of the Bank for Agriculture and Rural Development is 3,000 billion dong (accounting for 64.57%).
(Source: vietnamplus.vn)